14th ICCRTS
June 15–17, 2009
Schedule
Theme
History
Venue
Guest Tour
Register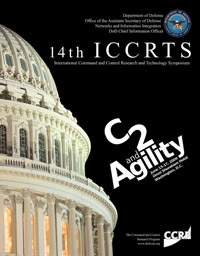 The theme for the 14th International Command and Control Research and Technology Symposium is "C2 and Agility." Agility is a key property for C2 in the 21st century. Since military forces work with an increasing number and variety of partners (coalition militaries, interagency, international organizations, non-governmental organizations, and private industry) in carrying out a wide range of missions, no single approach to C2 will prove effective. Research has shown that C2 must be robust, resilient, responsive, innovative, flexible, and adaptive in order to be effective in today's operating environments. Exploring aspects of C2 and Agility, including better concepts, metrics, approaches, socio-technical systems, architectures, models, and analyses will form the central focus of this year's ICCRTS.
Deadlines
Abstracts: November 3, 2008
Draft papers: January 20, 2009
Final papers: March 23, 2009
Final presentation: May 26, 2009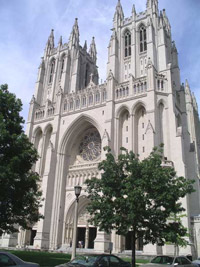 In 1995, the Command and Control Research Program (CCRP), within the Office of the Secretary of Defense, held the first International Command and Control Research and Technology Symposium (ICCRTS) at the National Defense University in Washington, D.C. This meeting built upon a series of events established during the 1970s by the Office of Naval Research and the Massachusetts Institute of Technology that brought together interested researchers to exchange ideas on command and control (C2), its measurement and assessment, and the impact of new technologies on the C2 process.
The initial meeting was modest in size (63 participants) and included only a handful of non-U.S. participants. Subsequent meetings have been held on a bi-annual basis in the United Kingdom (1996, 2006), Sweden (1998), Australia (2000), Canada (2002), and Denmark (2004). Meetings in other years have been held in the United States. Participation has grown substantially, to include hundreds of participants from dozens of nations. Equally important, the ICCRTS has developed into the meeting where the best C2 analysts from around the world exchange ideas about the state-of-the-art and seek to influence the state-of-the-practice within the United States, its coalition partners, and the missions they undertake. The Symposium is a meeting place for professional researchers, academics, active duty and reserve officers, and policy makers.
The ICCRTS has consistently focused on leading-edge issues involving (a) new concepts in C2 (b) new technologies and their potential impact on C2, and (c) feedback and evidence from experiments, exercises, and real-world operations. The Symposium is also an important forum for discussion of coalition and collective C2 issues and for examining the complex endeavors (stabilization, operations, disaster relief) involving a variety of entities including military, civilian, government, international organizations, PVOs and NGOs.
We will be holding the 14th International Command and Control Research and Technology Symposium June 15–17, 2009 at:
The Omni Shoreham Hotel
2500 Calvert Street NW (at Connecticut Avenue)
Washington, DC 20008
Phone: 202-234-0700
Fax: 202-265-7972
Since 1930, the Omni Shoreham Hotel in Washington, DC has played host to presidents, world leaders and inaugural balls, making it a true historic Washington landmark.
This grand luxury hotel offers a resort atmosphere and a personal taste of politics, culture, art and music at its best. The four-diamond Omni Shoreham Hotel is nestled on 11 acres in picturesque Rock Creek Park in northwest Washington, DC and is only steps away from the National Zoo.
Many of the 834 luxury guest room accommodations and suites offer spectacular views of the park. The hotel is just 8 miles from Reagan National Airport and 28 miles from Dulles International Airport.
Hotel Highlights
local attractions
National Zoo (free admission) – 4 blocks
Rock Creek Park – 6 blocks
National Cathedral – 1.5 miles
White House – 2 miles
Washington Monument – 3 miles
Georgetown – 3 miles
Vietnam Veterans Memorial – 3 miles
U.S. Capitol – 3.5 miles
Smithsonian Institute – 3.5 miles
Lincoln Memorial – 4 miles
Tidal Basin, home of the Franklin Delano Roosevelt and Jefferson Memorials – 4 miles
Room Rates
The CCRP has reserved a block of rooms at The Omni Shoreham at a special conference rate of $229.00. A limited number of rooms are being offered at the U.S. Government per diem rate of $209 (single) and $229 (double). These rooms are available on a first-come, first-served basis; therefore, we recommend that you make your reservation as early as possible if you wish to obtain the special conference rate. Participants are responsible for making their own reservations. Please make reservations as early as possible to secure your room.

The block is available at these rates June 14–17, 2009. The hotel has agreed to honor the block rate based on availability for up to 3 days before and after the dates above if guests wish to extend their stay. Please mention 14th ICCRTS when making your reservation. Again, we strongly recommend that you book your room early. If you wait until other notifications and announcements are received, the room block may be filled. Also, be aware that June is a popular tourism month in the Washington, DC area and the Omni is frequently booked.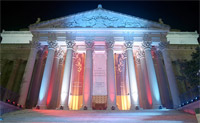 The ICCRTS is offering two tours for guests of symposium participants. There will be a morning and an afternoon tour Tuesday, June 16, 2009. Guests may choose to participate in either one or both tours. We will meet at a designated location that will be announced at a later date.
The National Archives Tour: Date: Tuesday June 16, 2009
Time: 9:45 a.m. www.archives.gov/nae/visit
Lunch: U.S. Capitol Visitor Center Restaurant 12-1 p.m. or the location of your choice. Menu
U.S. Capitol Visitor Center Tour Date: Tuesday June 16, 2009 Time: 1 p.m. www.visitthecapitol.gov

Tour Locations are easily accessible via Metro. www.wmata.com
Registration Fee:
Early Registration: $700 USD (Deadline: April 30, 2009)
Late Registration: $750 USD
The registration fee includes admission for one person to all sessions, a symposium CD and program,
T-shirt, welcome reception on Monday evening (June 15), and breakfast and lunch each day of the Symposium.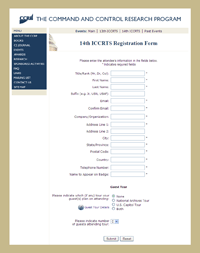 Instructions:
Click the "Register Now" button below.
Fill out the CCRP registration form and click "submit."
Enter the name and email address of the attendee for whom you wish to pay and click "Pay Now."
You will be redirected to PayPal's website to complete the registration.
You do not have to register for a PayPal account in order to pay. Major credit cards, wire transfers, and eChecks are accepted.
Note: If you have already submitted the CCRP registration form but have not yet paid, click here to skip this section and go directly to the payments page.

Questions
If you have any questions please send them to ccrts-iccrts@dodccrp.org